Rabbit Ears TV and the Writers' Strike
13 Mar 2008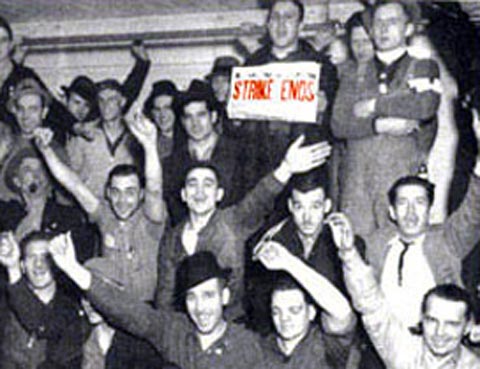 In 2008 the most historically significant action is on YouTube, in the millions of videos produced by people around the world that don't fit into corporate agendas. Nevertheless, I bet you're fibbing if you don't admit to sometimes settling down on a couch and watching TV. In a lecture to one of his Communication classes in our state university in the northern Midwest's rustbelt, Rob Drew used the phrase "rabbit ears viewers" to describe those of us, like my wife and I, who watch network television bereft of cable or satellite subscription. We are probably the ones most aware of the recent three-month strike by the Writers Guild of America against the television network giants.

Oh, once our household had cable. That was back in the days when MTV was nonstop music (its first year had NO ADS), or innovative video mixes like "Buzz" (not the "Buzz Clip"), juxtaposing segments of Timothy Leary and William Burroughs with innovative visuals, just because it looked cool and hip. BET spun "Caribbean Rhythms", international videos from the islands and--stretching their definition--Africa, or even Spain's Gypsy Kings. And there was always some intelligent author, speaking to a book club somewhere in the United States, on C-SPAN2. The trouble was, cable was a whiskey faucet. It was enjoyable, but diminished productivity when I was at home.

Now my own television viewing, outside of a a smattering of PBS ("The McLaughlin Group"; occasional BBC News), is a couple sexy workplace comedies "Boston Legal" and "Ugly Betty"--the shows that are always superseded by specials or re-broadcasts of "Lost". Jay Leno's "Headlines" sequence was fun, but I'd gotten out of the habit of watching it during the strike by the Writers' Guild.

Drew and I spend our days convincing students that the new economy means that the production of intellectual property is as important as the sectors that built this region, agriculture and heavy industry. I cheered on the recent short, symbolic UAW strike and was pleased at the major impact of the Writers standing up for their right to compensation for re-broadcast of their work on the Web. Yeah, I should have also written an editorial for local newspapers comparing the Writers' Guild interests to those of the United Auto Workers, urging them to express their support for it to local stations.
Some of the on-screen titans tried to ameliorate the effect of the Writers' strike on other members of their production team. The New York Times reported on November 30th, 2007 that Conan O'Brien would begin to pay 80 non-writing staff members on his show their regular salaries. NBC had been paying those bookers, production assistants, and segment producers the first four weeks of the strike, but would begin to lay them off. It would cost O'Brien about $200,000 a week, and noted that his salary is estimated at about $10 to $12 million a year, considerably less than Jay Leno and David Letterman's $25 to $32 million. But all this largesse ended after Christmas. Letterman's independent production company Worldwide Pants negotiated a separate deal with the Writers Guild, allowing his show to resume production without picket lines.

Meanwhile, during the strike there were more and more reruns, but this trend had begun over the last couple years before it. When I was a kid, the only time reruns were broadcast was during the summer, when it was thought that people would be outdoors in the warm, still-light evenings rather than sitting in front of the tube. Sometimes there were even summer replacement series (anyone else remember "Hank", about a college drop-in?). To see a re-broadcast during the winter still always strikes me as intolerable contempt for the audience.

As the strike neared its end, the Times reported on February 12th that the Writers were pleased to have negotiated a small piece of gross digital revenues. They had their "nose in the tent" with this acknowledgement of their right to it. Yet advertisers remain less valuable on the Web than on the TV screen. The strike is said to have caused the studios to question their scheduled production process, and consider shifting to a year-round season, rather than introducing nearly all of their new shows to much fanfare only in the fall. This would change the nature of advertising billings based on Gross Ratings Points, a system "historically lucrative for the writers." It appears there has been a double-digit percentage decline in network television viewership since a year ago. The networks cobbled together various reality shows, but their ratings were generally mediocre.

Though Times writer Daniel Carr concludes "the real money remains in legacy media", the strike's success means that programs that the studios re-purpose or develop for the computer screen, or phones with TV screens like iPhone, will pay residuals to writers. Now the Actors Guild contract renewal is coming up, so they too will undoubtedly demand a piece of these revenues that they deserve. The Writers Guild of America has proven that solidarity, sticking together and not buckling under despite the momentary pocketbook pain, serves organized workers in any industry. And workers are the people who create wealth, whether it's cars, or television shows.
Mike Mosher
has notebooks brimming with
ideas for movies
he hasn't found time to make.
◊