Welcome to our website for our ongoing series of experimental cinema in San Francisco. We show films every Saturday at ATA Gallery, 992 Valencia (@ 21st). Showtime 8:30pm, admission* $7.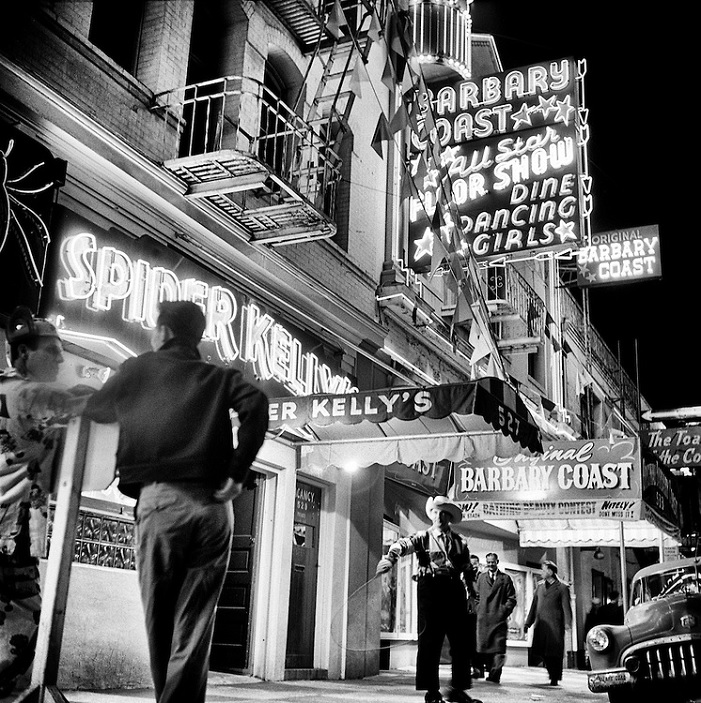 FEB.24: LIZ KEIM on MABUHAY + DARR + BIVOULAB +
A treasured programming thread returns with the first of 3 Psycho-Geographies, this one ALL SAN FRANCISCO! Spot-lit is Liz Keim in person with her historic (now being restored)In the Red, co-directed with Karen Merchant in 1979, about the punk scene around the Mabuhay Gardens. AND in his Red Delicious multi-media performance, Brian Darr focuses on a neighborhood just down the hill—the Embarcadero warehouse district, location for Jules Dassin's Thieves Highway in his 1949 proletarian noir. Brian mixes slides from Dassin's feature, amongst a half-dozen other sources, to spin out the history of the Hollywood Ten ( Dassin was targeted in the anti-communist witch-hunt). ALSO: Bivoulab (David Cox and Molly Hankwitz) conjure a San Faux Cisco, a 25-min. clip-tour of the City as pictured on video games and other virtual platforms! PLUS Kerry Laitala's (in person) City Blights, Bill Daniel's Mission Bay, Sam Green's N-Judah, and Bryan Boyce's More Is on the Way. Free postcards, toast, and jam.

OTHERZINE
OtherZine Issue #33, Spring 2018
"PINK VS. ORANGE"
This issue #33 of OTHERZINE incorporates the DNA of another San Francisco Bay-born radical publication, Bad Subjects. This is its issue #92 too, settled in to occupy some of Other Cinema's comfy seats here until its own website undergoes reconstruction. We hold hands as the movie unspools.

Viva Pink, standing up against Orange! In the January 2017 Women's March, Pink Pussy hats asserted female leadership and activism. The 2016 Presidential campaign of pinko (OK, socialist Democrat) Bernie Sanders excited and involved many voters, especially millennials. President Donald Trump, his hair and skin alternating between various shades of orange/lemon yellow/yogurt pink, has galvanized American and global opposition to his policies, his insults, his general demeanor. And as "Orange is the New Black" reminded us, incarceration is always a risk for the disobedient and, perhaps, dissident.

Start reading here!!: http://www.othercinema.com/otherzine/

Join OtherZine on Facebook




Join Other Cinema on Facebook