Welcome to our website for our ongoing series of experimental cinema in San Francisco. We show films every Saturday at ATA Gallery, 992 Valencia (@ 21st). Showtime 8:30pm, admission* $6.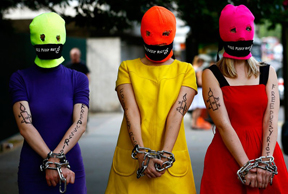 SAT. 3/8: PUSSY RIOT: A PUNK PRAYER + VOINA + SUKI +
A watershed report on widening cracks in the Putin regime, Mike Lerner and Maxim Pozdorovkin's Pussy Riot: A Punk Prayer traces the brave performance-art of those three young women who stood up to the religious cronyism endemic to the Russian power structure. Opening is the West Coast unveiling of the half-hour Voina, documentations of the group's public pranks over the last few years. Come early for the inspired percussion of local heroine Suki O'Kane, drumming up a fabulous atmosphere of girrrl power, playful activism, and cheap vodka shots!
Welcome to Issue 26!
This time around, our contributors have formed a remarkably cohesive issue that sits at the intersection of radically different media, themes, and practices. We encourage you to use this issue (and our Comments section) as a platform for jumpstarting critical discussion, revolutionary praxis, and radical breaks from the everyday. Accompanying this season, our blog will feature two of this issue's contributors on our Blog section every two weeks, framing the greater implications of their work in dialogue with accompanying relevant media. Until then, enjoy Issue 26!

Headlining our collection on (Dis)continuity, Australian dynamic duo SODA_JERK launches our issue with a manifesto of/on appropriation and collage, while Jesse Drew explores the history of these forms and their contemporary applications. Dr. Patrick Tarrant of England contrasts this with an exploration and explication of radical continuity through his own film, "Everything is Everyday." Finally, ghost written in the void itself, an anonymous contributor discursively elucidates nostalgia and film, the Boston bombings, Ryan Trecartin, and the very insanity of dichotomy.

Huckleberry Lain, projectionist of the RedCat theater in LA, unveils one of three Psychogeographies with a retrospective interrogation of The Park Theatre's destruction in Menlo Park, as well as the intersections of collective memory and property. Following, Julianna Schley truly remembers "Good Will Hunting", and Archimedia enters the ether with a comprehensive socialist history (and potential future) of wearable computing.

In review, longtime contributor Molly Hankwitz offers a complete rundown of one toolbox for revolution, and Anderwald & Grond discuss the stakes of their most recent curatorial effort, HASENHERZ. Kevin Obsatz also draws from a new politics of agricultural consumption to propose new forms of media production and consumption.

Finally, Issue 26 is pleased to host four Artist Projects: Alexei Dmitriev remixes WWII and canonical Hollywood footage into a hermeneutical meltdown, Clint Enns questions unaltered found art in its purity through a series of photographs, Craig Baldwin paradoxically rejects and embraces stereoscopic mind-control, and Angie Eng wraps up our issue with several endings.
Join Other Cinema on Facebook!