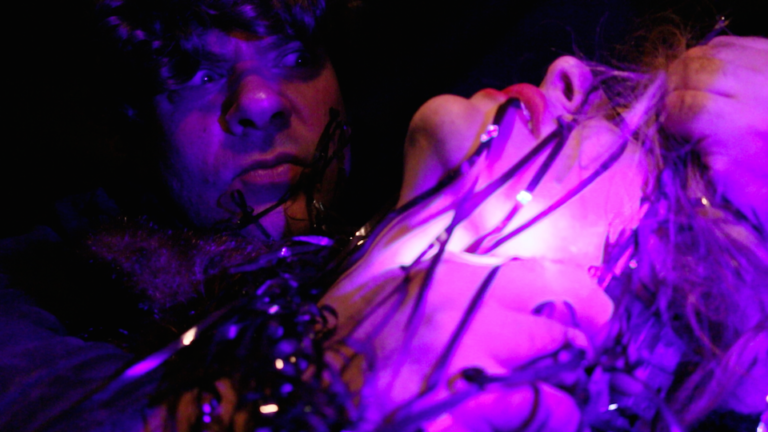 SEPT.15: DAMON PACKARD's
FATAL PULSE
The season opens with a most extraordinary event—rising from the very depths of Hollywood, here's the in person return to San Francisco of the prodigiously gifted Damon Packard, with his first feature in many years! In fact, his film happens to be ALL about his hometown—it's a screamingly hilarious send-up of the super-stylized thriller genre that the industry was pumping out in the 80s/90s ...and again, this magnum opus stars Damon himself! Truly a masterpiece on the order of Reflections of Evil, this NorCal premiere so clearly demonstrates Damon's intuitive genius for lighting (much of it shot at night), mis-en-scene, editing, and sound design as to certainly cement his place as thee bête noire borne from the SoCal sleaze. *$9


OPTRONICA1:
X~ANIMATION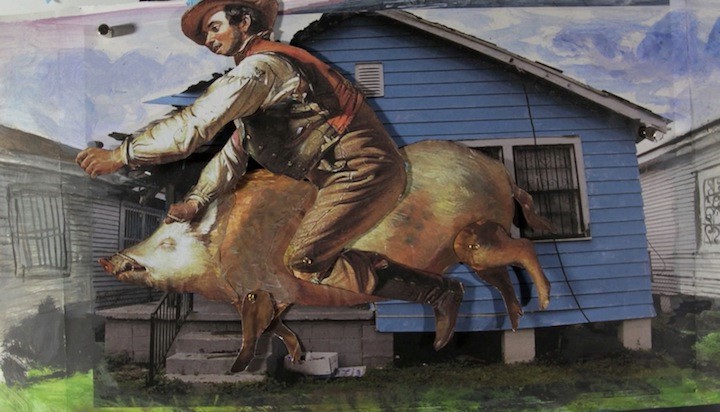 SEPT.22: ROURKE + COLBURN + GALLAGHER + GEISER +
Since the days of psychedelic light-shows, the Bay Area has been at the global forefront of expanded cinema and Live A/V. Tonight in fact we're adding three film performances to a phalanx of X~peri~Mental Animation, tipped by the return to our stage of the much missed...Jeremy Rourke! The now-legendary "natural" parlays harp, guitar, and a puddle of pedals into a 15-min. Exploded Memory star-turn that opens the second half. Also premiering are double-projector pieces from Ellie Vanderlip (Hold Still ) and Russ Forster/Craig Baldwin (Lighter than Air). AND even more debuts from Martha Colburn (Walls & Wills), Janie Geiser (Flowers of the Sky), Kelly Gallagher (51 Seconds, plus her Coup music vid), Winston Hacking/Flying Lotus (Post Requisite), Salise Hughes (Judy's World), and a No. American premiere from Nikita Diakut, (the eye-popping Ugly). ALSO earlier 'toons from Ub Iwerks, Sally Cruikshank, and even Walter Lantz. Rotostroboscope in full effect! Come early for toast and jam---and PopTarts---maybe in our parklet! *$8.

LO-FI SCI-FI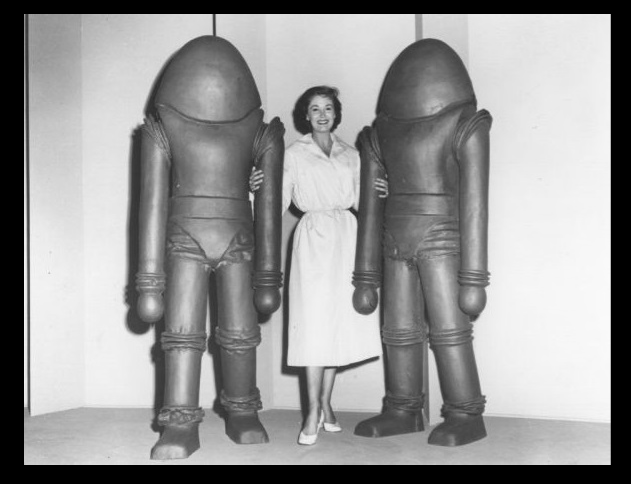 SEPT.29: SPELLETICH BENEFIT: SAVE-THE-ROBOTS + GAMERA +
Here's a chance to support a true Frisco stalwart, Kal Spelletich, brave anchor of the Seemen project, and a veritable pillar of our arts community, evicted from his long-running tenure at his Dogpatch studio by the relentless forces of gentrification. A percentage of monies from the door and bar (so drink up!) goes towards Kal's daunting moving/storage expenses. Screening are a daring duo of his robot docs amongst a life-raft of science-fantasy reels, to kick off a Trash Film thread that runs through this season's schedule (also on Optron2 and Archive1). Peppering the party is the climax of the classic kaiju Gamera the Invincible, the last scene from Colossus: The Forbin Project, pick hits from Journey to the 7th Planet (double-projected), Earth vs. Flying Saucers (all the prior four in 16mm!), The Great Martian War, and of course Unarius' lesson on The Extraterrestrials. ALSO Jon Reiss' Bitter Message (an SRL machine battle) Allison De Fern's Fembot in Red, Peter Lichter's George's Poem, and David King's (in person) Every Red Death. Come early for Russ Forster on the theremin, Wilhelm Reich's Cloud-Buster, the anomalous Number Stations, and sci-fi highballs! *$7-$20


LO-FI-PSY-FI-GEO1
OCT.6: E.DAVIS' JACK PARSONS + J.BERMAN's EARTHLINGS

World-renown fringe religion scholar Erik Davis materializes into our cine-séance with Babalon Rising: Jack Parsons Blasts Off, an inside report on the Man of the Hour, Jack Whiteside Parsons, the OTO sorcerer/inventor who founded the JPL, spread wide the words of Aleister Crowley, incidentally catalyzed the cult of L. Ron Hubbard's Scientology, and, with New Age matriarch Marjorie Cameron, brought Thelemic sex-magick into California parlance. Author of Techgnosis, The Visionary State, and Nomad Codes, Davis lets sparkle his crown of occult expertise, as he here flips through clips of Parsons' presence in contemporary film and TV, including Ridley Scott's Strange Angel, Craig Baldwin's Mock Up On Mu, et al. CO-FEATURED is journeyman Jonathan (Commune) Berman in person, energizing a rapt audience with the theatrical premiere of his mind-bending Calling All Earthlings, seeded by another SoCal desert wizard, George Van Tassel. A Hughes Aircraft engineer who "dropped out" of the industry, built the Integratron (without nails!) and his own airfield at Giant Rock, and initiated the post-War UFO craze, Van Tassel serves as a sympathetic protagonist for Berman's multi-faceted essay, a phantastic philmic freak-show that generously affirms "alternative" beliefs and the multiplicity of West Coast cosmologies.
PSYCHO-GEO2: WXSW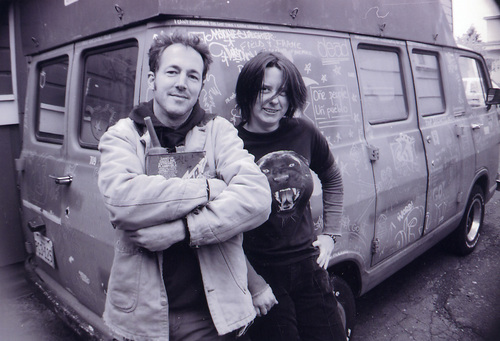 OCT.13: DANIEL + RENWICK + LORD + KATELUS +

Look for the four vans in front of ATA! Bill Daniel makes his escape from Tex-ass, Vanessa Renwick brings her Le Guin-inspired Kesh down from Portland, and Doug Katelus loads his Hammond organ into our gallery for an evening celebrating the imagination of that huge American subculture that's switched to "mobile living systems". Doug sets the tone as the house Solo Organ, sharing his Econoline tribute to boot. Bill tacks up an in-situ installation of his itinerant landscapes in the ATA hallway, before narrating a slide-show that finally crystallizes the Tri-X Noise Aesthetic, and Chip Lord sends in his 1970 flashback to Ant Farm's van tactics, as well as the sterile architecture of Phoenix 'burbs in his new Valley of the Sun. ALSO a cornucopia of works on the Bay Area built environment: David de Roza's Give (on Ingleside history), Julia Schroeder (in person) and Lana Lam's Who Owns the Walls (on Oakland murals), Ben Wood's Cellhouse History (on Alcatraz prison), Georg Koszulinski (on Native petroglyphs), a too-real clip from Dan Leighton's notorious Wedding Train, and Frito Pies! *$9


PSYCHO-GEO3:
MARGINS OF THE MAP
OCT.20: GRETA SNIDER's 3-D + L.CAPLAN + A.COPPOLA +
The third iteration of our Focus on Locus trifecta features two world premieres—exquisite expanded cinema/retinal rivalry pieces by the Mission's own Greta Snider, plus a timely revival of her epochal 16mm diary Portland, train-hopping with Ivy McClelland and Iggy Scam! Lana Caplan breaks away from her SLO college gig to unspool a NorCal debut, Patches of Snow in July (Hawaii volcano), as well as her earlier Maelstroms (Mexico border). In his farewell appearence, long-lost ally Alex Coppola flies in from Philly to not only open the show, but close it as well, with his world-class World Music vinyl selections, set to an absolutely sublime sampler of mid-20C personal travelogues—Glimpses of the Global South, glorious Kodachrome shot in four sites, moving east around the planet—Hong Kong, Tahiti, the Andes, and the Amazon. As to marginal spaces in the US interior: Brea Weinreb debuts Framing History, a collective S8 remediation of home movies from Japanese internees in the Amache, Colorado camp. PLUS: Matt McCormick's cautionary America Nutria, on a Southern mammal now munching on Coast rhizomes! ALSO a 16mm archival find of a first-person account of Antarctica! *$8


WOMEN'S WORK
OCT.27: SACHS/OLESKER's WASHING + HAMMER's DEREN +
We're tickled pink to welcome back prodigal daughter Lynne Sachs, here with Lizzie Olesker to anchor a program on women's labor, both manual and intellectual. Sachs shows her Carolee, Barbara, and Gunvor, about the ongoing cinema legacies of Ms. Schneemann, Hammer, and Nelson. That inspiring opener in fact leads us directly into a half-hour piece by the prolific Hammer, who HERSELF has honored another woman cultural worker of an earlier generation in Maya Deren's Sink. With a soundtrack from Meredith Monk, Barbara's cine-poem re-captures Maya's concepts of light, space, and time via projections on her original bathroom sink(!) and the walls of her LA and NY homes. Then, Lynne and Lizzie's The Washing Society shifts the focus to the physical labor in the neighborhood laundromat, a site rife with the history of service, and of immigration, in a disappearing public space. Just added!: ¡Despertar! - New York City Laundry Workers Rise Up.


SCRITTI POLITTI1
NOV.3: KHALIL/SWEITZER's EMPTY METAL

In our co-presentation with PFA, both sides of the Bay are mobilized by the excitement around this feature debut from a pair of young radicals out of Brooklyn's fabled Union Docs incubator. With mass surveillance and pervasive policing as context, both outside and in the fiction, Adam Khalil and Bayley Sweitzer, here in the flesh, have managed to conjure a revolutionary spirit at world's end. Set in the near future, their speculative drama, just a few degrees off our current climate of national collapse, opens up a space for imaginative story-telling...but is still close enough to a possible present to pop up in Doc Fests! In their taut thriller, a punk band is coerced into an assassination plot by militant Native Americans, with support from hackers and hermits. The lives of these several people, at extreme poles of the nation's social consciousness, weave together into a collective against our American Meltdown. The evening opens with a selection of trailers and clips from the subversive cinema that inspired our guests: Ice, Born in Flames, and Southland Tales plus cameos from Sun Ra and Pussy Riot!


GIRLS' CHOICE
NOV.10: CHRISTIAN DIVINE's THE BLUE AGE OF VIDEO GAMES
He's back! Our homeboy who hit it big with the world's first chart-topping video game played through a female protagonist! From Pong to Doom and beyond, the cultural expansion and global reach of games has ushered in a new era of diversity, story-telling and representation, along with cautionaries over their social impact. Games from around the world now explore issues of war, abuse, poverty, racism, sexism, even colonialism. Generations raised with computer games as an organic part of a media diet now accept and embrace them as a valid aesthetic force and all that implies. Christian Divine, writer for Life is Strange, the first video game to win a Peabody Award (along with a BAFTA), explores this strange new world with behind-the-scenes insights and interactive audience gameplay! Come early for a 25-min. opening set of choice clips from "classic" computer-geek teen flicks from the 80s. *$9


OPTRONICA2: DARK SYNTH
NOV.17: HANS GRUSEL/BRUTALLO + BECKER + HAUNTED BUCHLA +
Back by popular demand, Hans Grusel's Krankenkabinet now attempts an even darker theme than the Aztec mummies, with their appreciation/appropriation of cult auteurs Doris Wishman (Bad Girls Go to Hell, A Night to Dismember) and Jack Hill (Spider Baby, Mondo Keyhole)...as artfully re-mixed by Brutallo, and as part of this season's Trash thread. Local electronic ace Thomas Dimuzio graces out gallery (maybe for the first time ever!) to boast to the world of the wonders of the Buchla synthesizer conceived and produced right here in Berkeley by Don Buchla, another Bay Area arts visionary recently passed. Thomas is teaming up with Oakland optical whiz Lori Varga in their 20-min. A Sudden, Haunting Pulse Beneath the Concrete. Lori's four projectors mock up a motion picture miasma of beautiful desolation among urban decay. Opening, Tommy Becker continues to pioneer new modes of live-music-video performance, trotting out Stars White in a Blue Field, plus 3 more of his repertoire. Lillian Schwartz' analog videos serve as stereoscopic interstices between the acts; come early for Sara Bonaventura, 35mm filmstrips and Pocket Monsters. *$9.99


ARCHIVE FEVER1: CULT(S)
NOV.24: MICRO-ARCHIVES/ ANOMALIES + JOE DANTE's MOVIE ORGY
With Civil Defense crackers on offer, this Atomic Age retro-romp sets off a feisty trifecta on the high stakes and high art of Motion Picture Archiving, with tonight's celebration of Collectors and Collections oscillating between behind-the-scenes and in-front-of-screens. Our favorite four human-scale "folk archives" share both their anomalous sources and their masterful re-mixes, including several on 16mm! Adam Dziesinski remembers Oddball Films (Stephen Parr RIP) with his 275 Capp Street; Albuquerque's Basement Films brag about their post-War industrials buttressing a CD fallout shelter, parlaying a remix by Kamila Kuc, North Carolina's Skip the AV Geek Elsheimer fills halls with sublimely ridiculous "orphans"; and Alessia Cecchet (in person) unveils her own WWW {the whale who wasn't} collage coming out of the Internet Archive, based in our own Richmond district! ALL FOLLOWED by the most famous 16mm compendium in film history, Joe Dante's Movie Orgy!! Tho the reels were once rumored to top 7 hours, it's a much later cut screened here (and off video), but we promise to show more than half of this irresistible Olympian assembly of monsters, sci-fi, and Trash that Dante spliced together as a late-60s grad student.


ARCHIVE FEVER2:
SCRITTI POLITTI2

DEC.1: 1968+50: PARIS SITUs + MEXICO CITY + CHICAGO DNC
David Cox and Molly Hankwitz, as Bivoulab, retrieve the absolutely essential 20th Century moment that is Paris, May 68 in their In Memorium Futuri, an hour séance/screening on Situationist cinema and its echoes off the Parisian cobblestones. Guy Debord, Michelle Bernstein, Maurice Lemaitre, and their many angry comrades were the catalysts for massive change in the West, largely through their literary and cinematic critiques of the Capitalist "Spectacle" and its destruction of everyday life. A multiplicity of excerpts are deployed in Bivoulab's provocative talk, that bears on found-footage filmmaking, the urban "drift", and even the present-day steamrolling of our own beloved City. ALSO: Elena Pardo's El Otro Grito (The Other Scream), a 15-min. remembrance of the student massacre at the '68 Mexico City Olympics. Ralph Diamant's 16mm The Streets Belong to the People brings the global "Golden Jubilee" back home to the States, with his contemporaneous montage of Chicago street verité, barricade interviews, and a prescient Moog synth track. JUST ADDED: Sam Green pops in with Subterranean Celluloid from Chicago '68, on his own Weatherman clip of Chicago '68 footage, brokered through Diamant, Emile de Antonio, and Chris Marker. AND!: Lynne Sachs sends in a brand new 7-min. condensation of her Investigation of a Flame. PLUS a march with William Burroughs, Allen Ginsburg, and Jean Genet at that DNC (from Frédéric Moffet), Roger Flint's Spangled Banner (music by the Grass Roots!), free bread and wine, and red roses.






ARCHIVE FEVER3: YOUTUBERS
DEC.8: CATO's L00p8L00p8 + LANE's APPEARANCES + GAGNON's GOING SOUTH +
This third instance of the Archive Effect elegantly demonstrates how the terrain of "found footage" has expanded from 16mm celluloid, to analog and then digital video, to broadcast television, to internet TV, and now to www content-aggregators themselves. Kristin Cato (on violin) and Cindy Sawprano (on musical saw!) prime the party with the world premiere of L00p8L00p8, a Live Film performance that whirlpools us into the infinite recursions of that wonder-filled number. Vanguard Awardee Penny Lane (Nuts, Pain of Others) transmutes the dross of The Bachelor dating show into the gold of her Normal Appearances, another of Lane's savvy super-cuts that both appreciate and de-naturalize mass media. Dominic Gagnon, the controversial French-Canadian archeologist of the present, exports the West Coast premiere of Going South, the second in his compass tetralogy that manages to capture the unique ice crystals in the ever-roiling YouTube cloud enveloping our orb, so to artfully organize those first-person confessionals into a new kind of crowd-sourced documentary. A frenzied mosaic that features on an equal footing shopping lists, intimate outpourings and conspiracy theories, vertiginous images of the earth seen from a space station, innocent holiday films, sexual tourism and tropical cataclysms brought by climate change. ALSO: Katherin McInnis too delivers a debut, Eye of the Needle, a marvelous re-visitation of WPA Farm Security photos, scored by Matthew Leonard, and Kembrew McLeod sends in his Mister Rogers homage. PLUS Rachel Evans and Sharon Sandusky's spins off Disney's Lemmings, pieces by David King (in person), Soda_Jerk, Rachel Woolf, Bruce Conner (!), Adam Dziesinski's I Hate New Technology, and also a sneak peek at Baldwin/Dziesinski's Time Bomb. Free TV Sheriff DVD's for the first ten patrons! *$8
PEOPLE'S MUSIC
DEC.15: DREWs' OPEN COUNTRY + CASH's RIDIN' THE RAILS +
So in tune with the current class crisis, Jesse and Glenda Drew truck in from the Valley to deliver a robust updating of their big-hearted embrace of the real proletarian roots of the Country/Western genre. Their much-anticipated historical essay situates the origins of C/W music as being drawn from the same well as "hillbilly" or "folk", written from the perspectives of the marginal poor...but appropriated by post-War corporate consolidation of broadcast radio audiences and McCarthy's anti-communism. Some 5 years after their last luv-fest here, the Drews delight us again with new developments from their researches and interviews—focusing particularly on the dobro, Irish Aires, and the Hawaiian pedal steel guitar. CO-BILLED is the Premiere Revival of a truly obscure 16mm treasure, Ridin' the Rails, an irresistible tribute to the nation's train system, guided by narration and songs by Mr. Johnny Cash himself! Songbird Anne McGuire introduces this delicious 45-min. slice of authentic Americana happily surviving since its 1974 release, Cash here re-enacts the most important events in US railway history. Come early for the Reluctant Trucker on banjo, Country Corner dancing, and copious moonshine! *$8-$12 sliding scale.


AVANT TO LIVE
DEC.22: NEW EXPERIMENTAL WORKS
For over 30 years now, the OC season has been consummated with an energized evening of radical expression and film form, with many of the artists in person (7!). Spot-lit on this round are Jeremy Rourke's performance may two thousand and eighteen, Bryan Boyce's Fake but True, Tim Johnson's March of Tim, and David King's Male Men, all world premieres with makers present. ALSO Greta Snider's A Small Place, Julie Murray's Wind Wire Wound, Sabine Gruffat's A Return to the Return to Reason, Lana Caplan's Play and Repeat, Haley McCormick's Dancer, Mark Street's ZOOM, Montgomery Cantsin's Smythe, Anthony Buchanan's I, Chris, and the No. American debuts of Michael Fleming's Never Never Land and Bori Mate's Silent Spring Seahorse. A Robert Todd short is also included, in memory of this lovely gentleman who has passed from our world. Closing this colossal group show is Alex Cruse and Kevin Lo (Drought Spa), with a new performance A Fume, on fractured pressures in volatility's mouth. Fruitcake and free pencils!! *$8-10 sliding scale.

PREVIOUS CALENDARS
SPRING 2018
FALL 2017
SPRING 2017
FALL 2016
SPRING 2016
FALL 2015
SPRING 2015
FALL 2014
SPRING 2014
FALL 2013
SPRING 2013
FALL 2012
SPRING 2012
FALL 2011
SPRING 2011
FALL 2010
SPRING 2010
FALL 2009
SPRING 2009
FALL 2008
SPRING 2008
FALL 2007
SPRING 2007
FALL 2006
SPRING 2006
FALL 2005
SPRING 2005
FALL 2004
SPRING 2004
FALL 2003
SPRING 2003
FALL 2002
SPRING 2002
FALL 2001
SPRING 2001
FALL 2000
SPRING 2000