Screen Directions:
Loose Observations on Art, Culture, and Electronic Media
10 Feb 2013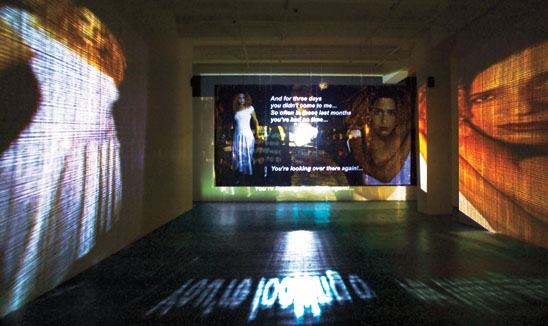 Screens and the Television Set
The electronic screen—monitor and frame, ominous blue (television) or more recently, artificially white light (computer screen)—has long preoccupied media artists. From an aesthetic point of view their sheer ubiquity and the clumsy, chunky quality of old monitors (now HD, sleeker, smaller and flatter) has given rise to a variety of articulate and creative responses. Nam Jun Paik, for instance, pioneered artworks in which he "sculpted" by stacking and re-stacking domestic television sets. The isolated, domesticated "TV" set disappeared amidst the assembled elements of these friendly robot-like figures.
The television set has also carried difficult meanings as an instrument of "Big Brother." German conceptualist Wolf Vostell buried the darn things, smashed them with hammers, or elsewise destroyed them. Art would never be the same after television. But it was video that proved a critical way out. Conceptual artists and feminists launched an all-out attack on dominant media with it, drawing from television, appropriating its images, and turning it back upon itself. Women artists analyzed their domestic lives transforming the video screen into a dumping ground for inner selfhood, "talking back" to Hollywood and aping its conventions as critique. But artistic attack on the rise of television was more than a deconstruction of its imagery and storylines, it was an appropriation of its structure, for use in art; the sheer abundance of screens which began to populate culture after the late 1950s. Screens proliferated and by the seventies, both video cameras and video-game consoles accompanied the television set on consumer shelves.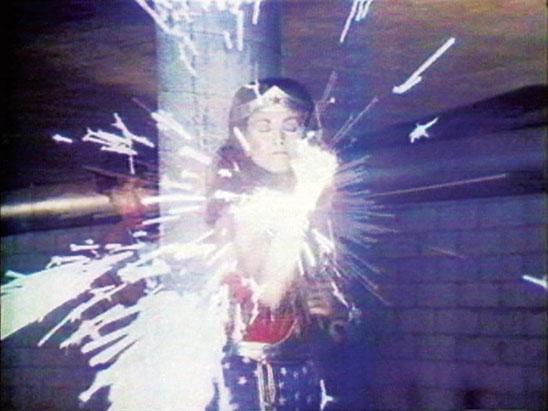 Video Artists Create
Dara Birnbaum's video installations exemplify both the re-purposing of television imagery and the artistic movement to incorporate multiple video monitors into installation. Her early single-channel works, such as TECHNOLOGY/TRANSFORMATION: WONDER WOMAN (1978–1979), dealt with female characters or stereotypes and used appropriated shots edited together. KISS THE GIRLS: MAKE THEM CRY (1979) incorporated images from the game show Hollywood Squares and POP-POP VIDEO (1980) explored television, women, power, and machines. Birnbaum's influence in media art has been felt through her development of multi-channel installation techniques such as "media walls" or grids of monitors, each with different or repeating images. Works in this format suggest simultaneous readings of cultural meaning around stories and representation. Barry McGee's use of TV sets and monitors for multiple hand-made video "paintings" at his Berkeley Art Museum retrospective (2012) also reflects this approach.
The aesthetic properties of "black," color bars, countdowns, electronic light, transmission, and virtualized "nature" emanating from electronic pictures has also inspired artistic unpacking of the screen. Bill Viola has explored video art largely as a poetics of the electronic image itself, likening it to mirrors, water, heat waves, and playing with its surface as color and light. Incorporating time-based sound and including duration and repetition in his palette, Viola has influenced perception of how we respond to, receive, and mediate electronic images. Viola explored the technology of video, the video frame and monitor; also, larger projections in installation. Many of his works recall abstract and monochromatic painting while placing the viewer squarely into physical space through sound and insistence upon listening. Paik's ELECTRONIC MOON, PARTS 2 and 3 (1969, with Jud Yalkut), TV BUDDHA (1974), VIDEO FISH (1975), and VIDEO BUDDHA(1976) all virtualized iconic objects from especially Eastern art (moon, bronze Buddha, gold fish, burning candle) in minimal, electronic form through the use of video cameras and "screens" (empty TV "box," aquarium). These works are playful commentaries on the powerful similarities between watching the screen, gazing at home television, and reflective, ancient worship.
New Aesthetic Video Art and the Dominant "Real"
Taking on the "graphic" composition of the digital, image, screen and its technology seems to be the visual end of the Open Source movement and pundits of the New Aesthetic in Great Britain. New media artist Nick Briz investigates digital technology and error—the glitch. In a spate of recent video works, VERNACULAR OF FILE FORMATS - R3M1X, BINARY QUOTES and FROM THE GROUND UP IN ORDER, EMBRACE, Briz uses code, the pixel, and the artefact. Here the art is one of disturbance, and exposure to the underlying elements and systems of the digital. Artefacting, usually considered something to be fixed, instead is disruptive, aesthetic; a reworking of expectations. Digital media is not seamless and controlled, in fact, it is accidental, destructible, ephemeral...fragile and social. New Aesthetic works from Briz, Belgian art-duo JODI, and others culture-jam that seamless presentation of art with pixels, pixellation, digital blurs, and textual nonsense. They force interaction into a position on the social. These videos emphasize the non-static fixity of digital technology and open a field of artistic expression where "the material" production of art is not simply "done with computers," but is itself treated as a moveable substance with living artists behind it.
Briz' New Aesthetic open artware library remix project, with its insistence on the appropriation of common "social" signifiers from Facebook, is a reworking of the idea of social media through signs. This effort—to rip digital social signifiers—cries out for fresh air in a popular culture rife with the lugubrious (and expensive) spectacles of hyper-real imitation from Big Digital cinema and the 3D-animation studios. Representational art—that is art without live actors and their aesthetics of destruction, explosions and violence without physical consequence, much of which is nothing more than big-budget military-industrial-complex extravaganzas—is the dominant "real"; INCEPTION's crumbling mindscapes, the terrifying eroding "crust" in 2012. Myriad films (starting at least with SWORDFISH's elegant crash scene) feature cities being erased, toppled, blown away, buildings shattering before our eyes and scads of office furniture sliding loosely and piling up with plate-after shattered-plate of glass windows. The MATRIX-originated car, truck, and motorcycle-chase scene of hyperbolic proportion has evolved, as it were, well-beyond THE FRENCH CONNECTION and into a nearly cliché proverbial sequence, along with lead characters dangling with one hand from cliffs, edges, precipices. The whole world is precarious. The magic does not stop at luxury cars, but moves right into childhood, mythic Hansel and Gretel all grown up, now disassembling/assembling right before our eyes.
The Dark Side
In recent work by Australian artist/researcher Mitch Goodwin, Dark Euphoria: Unclassified Media (2011) at eMerge Media Space maps neo-Victorian aesthetics in information and media culture across digital pieces which seem to defy categorization. The need to look awry, obliquely at the present is expressed in Goodwin's efforts to gather the "real," so as to examine the "real," reflected in the self-consciousness of the collection which suggests a sinister side of contemporary digital aesthetics and the larger meta-narrative of the global mass-media network. It is as if, in Goodwin's work, the screen as a purveyor of truth, is questioned. Without Open Source, the desktop screen, laptop monitor, and iPhone 5 touch surface are increasingly pre-organized and programmed by commercial interests. Thus, there is no real reason NOT to question the purpose of the screen. These screens are becoming more like TV.
Goodwin's presentation includes "photography, video remixes of contemporary screen culture, multi-channel video works, image manipulation, glitch art and electronic music...accompanied by a web portal for extra content and work-by-work deconstructions."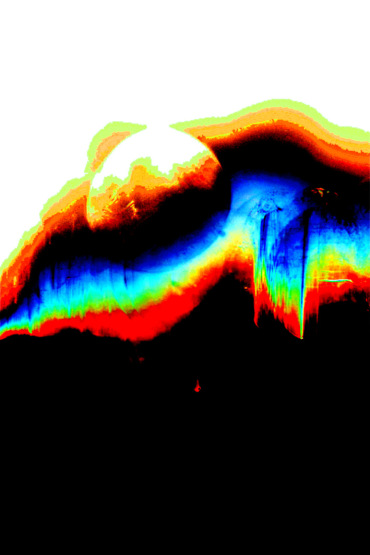 Fine Art Screens
Concern for the screen manifests in fine art through the delicacies of idea, geared at engineering an emotional response and born within conventions of art history. SFMOMA's recent Field Conditions exhibition explored conceptual frames in a group of artworks treating the surface—window, ceiling, floor, door, wall, canvas, screen—as a precise "field" or composite element. Dozens of identical lighting fixtures installed by Rafael Lozano-Hemmer in Homographies, 2006, and Tauba Auerbach's stark floor piece, 50/50 Floor, 2008, made from one-inch black-and white-ceramic floor tiles (much like a huge Bitmapped pic) defined boundaries in the large gallery space, while suggesting connections to imaginaries outside the room, such as those on computer screens. Light, and the luminous immateriality of surfaces or within frames ran thematically throughout the exhibit. Jim Campbell hung hundreds of LED lights in the main foyer, over the museum entrance. Where one stood determined how this piece, and its frame, would be perceived. Relating directly to the museum's architecture, Campbell's lights became visible at the entrance as a mass, and on the central stair as a screen upon which a film projection of dancing figures could be observed.
The composition of the cinema screen was conceived as being made of many parts which, when they achieved density, enabled projection. This is like thinking of the universe; a place both dense and infinite. Other drawings, by the late Lebbeus Woods, encouraged viewers to consider architecture as a disconnected and immaterial exchange of energies: line, light and motion on a surface, never coming together as a permanent object. Woods' works talk about collision and indeterminacy; random conflict and contingencies, similar, one might think to the proposition in Len Lye's animated shorts, FREE RADICALS and PARTICLES IN SPACE (programmed in screenings parallel to the exhibition) that celluloid is a "field", or surface upon which particles—inscribed, scratched, imprinted—are elements of light and dark, Things to be manipulated. Other works set painterly and glass surfaces into motion with generative, algorithmic programming. Twin images by Casey Reas, Process 7 (2010), "painted" with repeating, rhizomatic patterns of white data on a black ground. Works by Stan Allen, Sol LeWitt, and others explored light through doppler-type and rippling or stippled effects upon paper and water.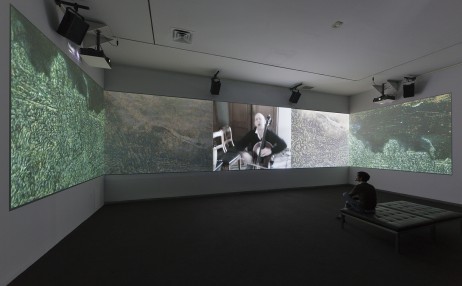 New Contexts
Finally, the program The Way Beyond Art 4: Infinite Screens, at the California College of Arts Wattis Institute for Contemporary Arts features HEARSAY OF THE SOUL (2012), a 5-channel video artwork by Werner Herzog. The project and series of accompanying weekly lecture/talks given by CCA faculty and Bay Area artists look at the moving image and its changing contexts for exhibition. The talks emphasize film language and its development amidst the quick-paced reality of material and economic challenges to the exhibition and distribution of film. They are designed to broaden theoretical and conceptual understanding of the breadth of practices making up contemporary film culture.
Refreshed concern with screen culture, on the wall, networked, hand-held, or other, from institutions and artists alike, holds great promise. Great promise because ultimately what is contested are structures of power and how ideas are formed, owned, shared, and "developed." The artistic impulse to experiment with code; experiment with power; to mash-up and remix—to make seen—has a long history in video.
◊
---
Molly Hankwitz writes on media art and culture and lives in San Francisco.
Resources
Interview with Molly Hankwitz on New Aesthetics