Welcome
24 Feb 2007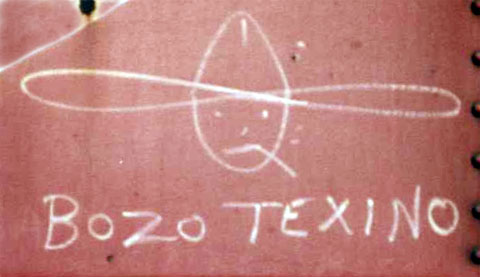 Interviews
Who is Bozo Texino: a Search with Bill Daniel
Peggy Nelson
People write, draw, and paint on trains. "They are kind of communicating, participating in a scene, in a collective practice ... [but] so anonymous as to not know each other. And a lot of times they had really inaccurate ideas of each other, especially between the tramps and the rail workers. Tramps and rail workers are very different people: demographically, economically, and even psychologically, in their reasons for writing on trains."
Dialogue with Susan Greene on "Break the Silence"
Molly Hankwitz
Israel is building a wall between itself and the Occupied Territories. "The wall is devastating and extremely traumatic because it cuts the people off from their land and from any means of a normal life. Even between cities in the West Bank, people are forced to deal with checkpoints. This wall and the whole associated structure which goes along with it: turnstiles, places where you have to show your papers – movement is restricted to such a degree that you can't see your friends, you can't see your family, you can't plan on anything." The "Break the Silence" mural project began in 1989, when four Jewish-American artists went to Palestine to find out more about the situation there.
Opinion and reviews
Lynne Hershman Leeson's Strange Culture: a Tapestry of Dilemmas
Mike Mosher
On May 11, 2004, Steve Kurtz's wife died unexpectedly in her sleep of cardiac arrest. When local medics and police arrived, they were suspicious of the chemistry equipment in Steve's house. Steve was eventually prosecuted for various offenses relate to "bio-terrorism." Mike Mosher reviews Lynn Hershman Leeson's documentary: "Leeson endeavors to make an informative and inspiring political piece, one not compromising her vision as a digital video artist. I hope she pulls it off ..."
Artist projects
Dr Yes and the Mystery of the Mission
David Cox
Part Two: "The conquistadors are still with us, Doctor Strayker" said Dr Yes. "Only today they use illegal and corrupt real estate deals, corrupt local politicians and the police to clear the land of undesirables."
Actuality
About the Sarah Jacobson Film Grant
Sam Green

From OthercinemaDVD
Interview with Lutz Dammbeck
Helmut Merschmann
This interview was included as an insert with the DVD The Net by Lutz Dammbeck, a film about the Unabomber, Ted Kaczynski, recently released by Other Cinema Digital (see the Store link above). "If you go to Harvard or to MIT, you will not only find an architecture of power, but also an air of power. They consider themselves an elite ... if someone drops out, it's like it was in former times when someone renounced his status at court: he is an outcast." See also Issue 9.
◊