Oh, Bondage, Up Yours!
15 Sep 2007
Interview with Hito Steyerl
Lovely Andrea is Hito Steyerl's research about a photograph of her personal past, a document in which she is tied up as a bondage model in a "historical" Japanese setting in Tokyo. We follow Hito in her private investigation: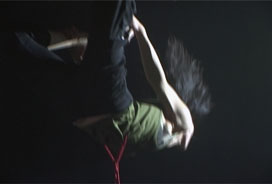 She goes into various archives in search of pictures taken of her on a single shoot in 1987. She interviews photographers, ropemasters, the staff on a bondage set, editors, publishers, and archivists. Hito seeks out Steve Osada, a German ropemaster living in Japan, and Ageha, an iconic Japanese bondage model, who acts as Hito's interpreter, agent, main protagonist and co-director.
While we see Hito track down different leads, the story is not told in a linear narrative, with a voice-over explaining and guiding through the individual stations she visits. In Lovely Andrea, Hito thematically and aesthetically interweaves strands of pop-culture and sub-culture. She playfully mixes footage she shot herself with footage taken from various sources: music videos from '80s, news clips, Hollywood trailers, American cartoons, and still photographs borrowed from the internet, as well as private bondage archives.
Lovely Andrea is a movie about a woman on a quest; it's a feminist collage essay, a hybrid music video, and an experimental compilation documentary, that raises questions about the politics of images, power structures, power over shame, voluntary and involuntary submission, about relative and absolute freedom, about role plays in society, about bondage as work, as art, as a symbol for raw existence, and a metaphor for society. It's a movie about the web that encompasses everybody – consciously and subconsciously, actively and passively, aggressively and subliminally.
This interview took place on the Internet.
Sylvia Schedelbauer: When you started working on this project, did you think that you'd really find pictures of a single bondage shoot from 20 years ago?
Hito Steyerl: Obviously not. I had no clues, where to look for it, no idea about the circumstances under which it had been published or produced. If I had known I'd find it, I wouldn't have started looking for it in the first place!
S: Can you tell me a little about the background story?
H: When I was studying in Tokyo, I was pretty influenced by my documentary film teachers, who were quite radical. One of them had done a work about Korean prostitutes in Japan, which I thought was really relevant. I wanted to do an insider's piece about the porn scene, and was looking for a way in. Unfortunately at age 20, I was not able to make this film. It would have been really interesting now.
S: The stereotype of Japanese bondage models of the '80s and early '90s was that women were lured into the shoot, that they were tricked into the job, that they didn't know what the shoot was going to be about when they went to the casting – porn shoots were often said to be disguised as harmless photo sessions for the pop-culture, for talent scouts. Once in the studio, the women supposedly quickly became victims of a powerful porn industry, closely linked to Yakuza agents who had no scruples about threatening, blackmailing, and financially exploiting the women. Tanaka Kinchi, (a bondage photographer) vaguely talks about deception and corruption in your movie. Did you hear anything about this "industry myth"?
H: Yes. This is exactly what would have happened to me, had I not taken the precaution to work under a different name, namely the one of Andrea. This myth is entirely consistent with my experiences.
S: You decided not to confront us with victimized women of the industry, but instead present us with a very self-empowered woman, Ageha. When did you realize that she was going to be the main protagonist of your movie?
H: She simply happened to be in the situation I was confronted with. There was no casting or anything similar. She happened to be there, she was great, gifted and utterly out of synch with any stereotype of Japanese submissive feminity. I really admire her talents.
S: Ageha subverts traditional structures of power relationship in bondage – the roles of "master and servant" – by performing in a one-woman stage show, in which she does "self-suspension". Does that mark an optimistic change; does it symbolize women's emancipation "at last"?
H: I wouldn't go that far. Her self-suspension performance simply turns the traditional female passivity and captivity into something active, very beautiful and much more related to floating and flying than to simply being bound. For me, this is not only a demonstration of how the tools of submission can be converted into tools of empowerment and freedom, thus leaving behind bondage in general. But this performance is also a compact allegory of the state of independence or even freelancing itself. Traditional authorities are declining in number (not intensity). People take over their roles on their own. The relationship of master and bondsman/bondswoman is now concentrated within one individual, which takes pains to mobilize, to motivate, to push itself further. This procedure could easily be called self-bondage. It is very interesting as a phenomenon, because how do you realize emancipation, if you turn out to be your own oppressor?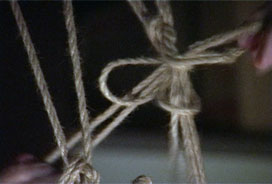 S: Freedom is bondage?
H: No. Freedom is an ideology, being compelled to constantly make absurd and meaningless choices – yes.
S: Lovely Andrea is different in many ways from your earlier works – it seems more personal. Can you say something about the work process of the piece?
H: I made a movie called NOVEMBER before, which took as its point of departure the story of a person called Andrea Wolf, who was killed in Turkey as a member of the banned Kurdish Workers Party (PKK). I remembered that I had assumed her name in Tokyo, many years before she got killed, in order to realize an investigation in the Japanese porn scene. So Lovely Andrea is a different perspective on the topics tackled in NOVEMBER: the question of traveling images, of postures and gestures, of political pin-ups, and the end of any traditional perspective on emancipation.
S: Neither November nor Lovely Andrea are personal documentaries about Andrea, a friend of yours when you were a teenager, but philosophical and political reflections around a female figure that carries out gestures. What does the figure of "Andrea" mean to you?
H: I am still very upset by the fact that the real Andrea Wolf could be killed without any consequences. Nobody has been charged with her murder, her body has disappeared. As long as this is the case, I will continue to be concerned with her legacy. In the seventies, Godard decided, that he would insert some references to the war in Vietnam into all of his films "a tort et a travers, et plutot a travers" (and rather in queer way) as he said. I suppose this is what I am unconsciously doing now. Bringing up the issue over and over again, especially in contexts, where you would never suspect it and where it even seems completely displaced.
S: Do you plan to produce more work revolving around Andrea?
H: Most probably one more.
Hito Steyerl is a Berlin-based documentary filmmaker and author. Her visual and written essays center around questions of globalization, urbanism, racism, nationalism, and feminism. Hito holds a Ph.D in philosophy. She has published numerous articles, and her next book entitled
Die Farbe der Wahrheit – Dokumentarismen im Kunstfeld
(The Color Of Truth – Documentarisms In The Field Of Art) will be published in December 2007. Her selected videography includes:
Germany and Identity
(1994),
Land of Smiles
(1996),
Babenhausen
(1997),
The Empty Centre
(1998),
Normality
(1999),
November
(2004),
Journal #1
(2007). Her latest short film,
Lovely Andrea,
was one of three of her new works presented at documenta 12. Sylvia Schedelbauer is a half-German-half-Japanese filmmaker who graduated from the University of Arts in Berlin. In her work she often deals with identities oscillating between different places of belonging. She is currently in San Francisco on an artistic research and production grant with the German Academic Exchange Service (DAAD).
◊
---